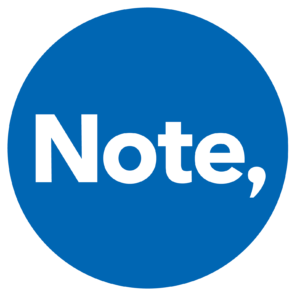 When people hear that Lori is running the project they're working on, they breathe a collective sigh of relief. And who can blame them? With a quarter century of professional work experience, most recently directing 33-odd workers in a team scattered across the United States, Lori knows how to get the absolute best work out of everyone. What's more, she actually enjoys it! So do they. That's why she's a perfect fit at Note. We needed someone with communication skills, coordination talent, and financial acumen. We found Lori.
You might think Lori was born to direct operations, but she has spent much of her career like a lot of us at Note: in financial planning. She earned an Associate's Degree in Liberal Arts and Social Sciences from Erie County Community College and a Bachelor's in Business, Management, and Economics from Empire State College. She is a Certified Financial Planner (CFP®) and The American College of Financial Services has also bestowed the ChFC, CLU, CASL, and ChSNC designations upon her.
Lori takes her passion for people home with her too. She loves spending time with her husband, two kids, and dog Remington. She's heavily involved in her local church and supporting outreach efforts in her local community. Lori is a big fan of her morning (and afternoon) coffee, playing a variety of sports, and reading one of several fiction books that are always on her nightstand. In fact, about the only thing she's not a fan of is seafood; the ocean is for swimming, people!
---
Latest News from Note:
Frustration builds as your bank account bleeds… It bankrupts your patience and any remaining good sense. You probably wonder, "What the hell am I paying for?" Divorce is hard. It's complicated, overwhelming, and heart wrenching. It's painful, scary, intimidating, and maddening. It's also quite costly. The pressure is on to make decisions … big decisions……